Until 1st June 2013, the firm's managing consultant, Alfred Triganza had been chairing, in a 'quasi judicial' capacity, Malta's Public Contracts Review Board (until 2010 known as the Public Contracts Appeals Board).
This chair is duly appointed by the Prime Minister of Malta in terms of Section 85 (1) Part XIV entitled 'Public Contracts Review Board', Clause 7 (a) of LEGAL NOTICE 296 of 2010, as amended by Legal Notices 47, 104, 255 and 312 of 2012 and 65 of 2013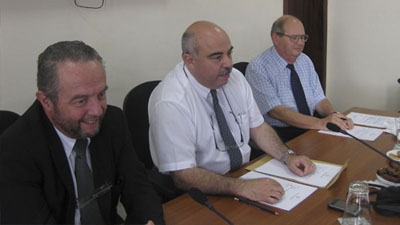 During his 10½ year tenure MrTriganza:
became the longest serving Board member

presided over 540 appeals (over 555 sittings) lodged by appellants following decisions taken by contracting authorities

decided upon appeals in respect of tenders worth, cumulatively, more than € 720 million

ensured that all decisions taken since 2002 be duly published thus establishing a vast quantum of case studies which are constantly resorted to by many interested parties including contracting authorities, legal entities, bidders and academic staff

oversaw the works of the new administrative premises which were officially opened in late 2011
Building on his vast experience Mr Triganza, through Atriga Consult, is now in a position to:
arrange a meeting with you to discuss and agree a plan to bid for public sector contracts

carry out an audit to assess your 'business ready' status as a preparatory measure

help you complete 'Invitation to Tender' requirements

produce a presentation to enhance your interview delivery

form part of your presentation team at interview stage

assess your completed documentation and provide guidance (if you have your own bid writer/s)

carry out a final check on your completed documentation prior to submission (if you have your own bid writer/s)
All of your bid and tender writing needs - whatever shape or size - can be met by Atriga Consult. We will receive a fixed fee, no obligation quote for all of our writing services, so that you know exactly what you are paying in advance with no hidden costs. Meantime,
you can continue to focus on your core business while we write the bid for you
we will provide you with an honest appraisal as to whether we think you have a realistic chance of winning
the quality of work you receive will be guaranteed and your submission is quality checked
the size of your firm presents no issue for us - we are interested in working with family firms as well as bigger organisations
Our full bid management services provide a comprehensive solution to suit your business needs.
You are free to take advantage of having the full tender process, managed by us, on your behalf. We will undertake all tasks including:
writing
design
layout
formatting
proofreading
printing
You will still be in control of the final version via structured meetings and reviews.
We can be involved in your bid process as much or as little as you like.
Atriga Consult is ready to respond to your enquiry. To register your interest, please complete our 'Enquiry' section below. Fields marked * are mandatory
Due to his vast experience with tenders at appeal stage Mr Triganza together with the Company's legal affairs consultant, are also offering their services aimed at assisting clients and/or their legal team to present their appeal submissions during pertinent hearings scheduled by the Public Contracts Review Board